Uploading methods
You can directly upload your video (by adding a special step and using the Upload Video button).

You also can use a link from another website (by pasting a link from YouTube, Vimeo, etc.)

There is an option to use iframe to upload YouTube videos, for example. You can use it for a step of any type and add the video to a text or an assignment.
Uploading via iframe
During step editing at Stepik, change to the html-editor mode
Find the video at YouTube and click Share → Embed: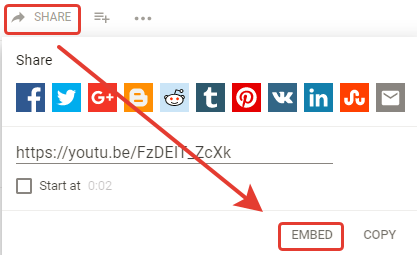 Add the code to the step at Stepik by changing the link inside to the one you have copied from YouTube, and save the progress.
You can see an example here.
Please notice that Stepik uses https security protocol so you cannot use iframe to upload a video from websites that work on http.